Digital Ignition with ignition switch addapted for MOKI S 180
rainbow-tronic Digital Ignition System DIS 5*-M with ignition switch DZS_2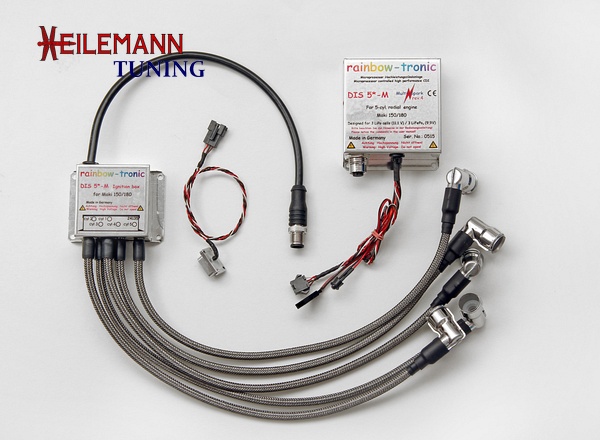 Selling price without VAT:
418,49 €
DIS 5* is a digital, microprocessor controlled ignition with the well-known CDI (Capacitive Discharge Ignition) procedure, that was adapted for the MOKI S 150/180 5-cylinder radial four-stroke engine.
The battery voltage is transformed internally to a high voltage, that is stored in a capacitor. At ignition time it is discharged and induced. Now there is a high voltage of approx. 25.000 Volt in the ignition coil for the ignition plug.
This guarantees a clean,k quiet and prcise engine run over the whole rpm range.

Merkmale:
Power supply over 3S LiPo or Li-Ion Cells (10,8 - 11,1 V)
Status LED
Undervoltage detection for the battery
Speed limiter - switch-off at 6.000 rpm.
Automated calculation of ignition time
Reverse polarity protection
Safety switch-off (after approx. 30 sec without impulse)
Weight: approx. 530 g
Included in delivery:
Ignition electronic

Ignition box

Plug'n play hall sensor

Digital ignition switch DZS_2, optically separated (for 11,1 V nominal voltage)
Detailed manual (German/English)
Delivery time:
approx. 1 - 2 weeks !
On request, we gladly take care of the installation for you. Included is also a disassembly of the old ignition and a test run - We would be happy to submit an offer - don't hesitate to contact us! 
Units in box: 1